August 9, 2023
Gig Harbor's Premier Kitchen Contractors: Quality Renovations
If you're a homeowner in Gig Harbor looking to transform your kitchen into a functional and aesthetically pleasing space, you've come to the right place. At Harbor Cross Construction, we take immense pride in being the go-to custom cabinet makers and kitchen remodeling contractors in Gig Harbor. Our team of skilled professionals, led by experienced general contractors, is dedicated to delivering top-notch quality renovations that exceed your expectations. Let's explore how we can turn your kitchen dreams into reality.
Custom Cabinet Makers in Gig Harbor
When it comes to creating a kitchen that perfectly complements your lifestyle and preferences, custom cabinets play a pivotal role. At Harbor Cross Construction, our expert custom cabinet makers in Gig Harbor have an eye for detail and craftsmanship that is second to none. We understand that every kitchen is unique, and so are the storage needs of our clients.
Our team collaborates closely with you to understand your vision and desired features, from elegant finishes to innovative storage solutions. We source only the finest materials and employ state-of-the-art techniques to ensure that each custom cabinet reflects the highest quality standards. Whether you desire a modern, minimalist look or a classic, timeless design, our skilled artisans will bring your ideas to life, leaving you with a kitchen that speaks volumes about your style and taste.
General Contractor Gig Harbor
As a general contractor Gig Harbor, Harbor Cross Construction brings a wealth of experience and expertise to every kitchen renovation project. Our commitment to excellence, transparency, and customer satisfaction sets us apart from the rest. From initial consultation to the final walk-through, we ensure that the entire remodeling process is smooth and hassle-free.
Our seasoned team of general contractors oversees every aspect of the project, from obtaining necessary permits to coordinating with various subcontractors. Rest assured, we adhere to strict timelines and budgets while maintaining the highest level of craftsmanship. Whether it's a minor kitchen update or a complete overhaul, our general contractors have the skills and knowledge to handle every detail with precision and care.
Kitchen Remodeling Contractors
A kitchen renovation can significantly enhance the overall value and functionality of your home. At Harbor Cross Construction, our dedicated team of kitchen remodeling contractors is well-versed in turning your vision into reality. We take pride in staying updated with the latest trends and innovations in kitchen design, ensuring that your space reflects modern aesthetics and optimum functionality.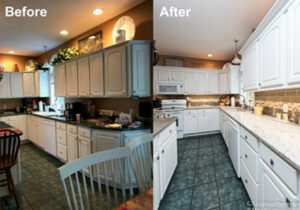 Our remodeling process begins with a thorough assessment of your existing kitchen layout and your specific requirements. We then present you with innovative design ideas that optimize space and flow, while incorporating your desired features.
Finally
When it comes to premium kitchen renovations in Gig Harbor, Harbor Cross Construction is the name you can trust. Our team of skilled custom cabinet makers, general contractors, and kitchen remodeling experts are passionate about creating spaces that go beyond ordinary.
Visit our website at www.harborcrossconstruction.com to learn more about our services and explore our portfolio of successful kitchen renovation projects. Let us be a part of your journey in transforming your kitchen into the heart of your home. Contact us today for a consultation, and let's bring your dream kitchen to life!