May 23, 2022
Tips to Help You Save Money on Your Home Remodeling Project
Remodeling a home will add value to your property and you will not lose cash in the long run. Most people end up paying more money for their remodels because of poor planning, unpreparedness, bad luck, and opting for DIY work. Working with a professionals will help you avoid unprofessional work and overspending on your projects. Professionals will recommend the right materials, tools, and equipment for the job and they have the experience and expertise to deal with the work at hand. Here are a few tips to help you save cash on your upcoming remodeling project.
Set a budget for Your Project
When you go over budget, it will not only affect your wallet but will also hurt your entire home remodeling project. You may discover that you purchased equipment or materials that you do not require and this may stall the process. More expensive materials will also translate to intricate labor processes that come with a higher price tag. Therefore, you need to set a budget and avoid deviating from it so that you complete your remodeling project.
Consult Your Contractor
It is recommended that you consult your kitchen or bathroom remodeler near me before starting any project you have in mind. Professionals have the knowledge and expertise to recognize things that you may not know. Ensure that you work with contractors who have an excellent track record and are a perfect match for your home renovation project. This way, you will only implement projects that will add value to your home.

Consider The Value
You should consider what value the remodeling project is adding to your home. Renovating a home is a major investment for any homeowner. When your remodeling is done correctly, it will increase the value of your home and the asking price will be higher when you want to sell. You definitely want something that will make your house a more valuable asset and working with the best custom cabinet makers in Gig Harbor makes sense.
Ignore The Trends
Trends will always come and go, so when renovating your house, you should stick to what is practical for you and your family. The best kitchen remodeling contractors will guide you through the whole remodeling process. They will also inform you about what will be beneficial to your home with regards to value. Whatever is trending today, may be outdated in the coming years, so you should always go for what works for your home rather than what is trending.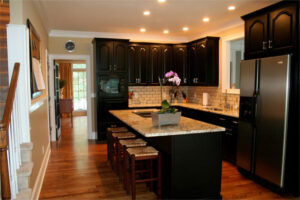 Avoid Moving any Electric or Plumbing
Moving your electric or plumbing components should not be done during any remodeling project. This may cause more harm to your home than good as it can result in more expensive renovations and cause faulty function. Ensure that you consult your contractor before starting any project if you have to move these things. You may save yourself money and time that these costly repairs may bring.
Before starting any renovation plans, you should do your research. This simply means that you should research other similar completed projects, vetting the best kitchen remodeling contractors, researching prices for materials and parts, and more. You should never walk into any home renovation blindly. In addition, you should be patient with the renovation process since a well done job takes time.