When it comes to home improvement, custom cabinets stand as a testament to the beauty of personalization. These functional pieces of art can transform your living space, adding both style and substance to your home. In Gig Harbor, Washington, the gateway to the stunning Puget Sound, custom cabinet makers are taking the world of interior design by storm. In this blog, we will explore the world of custom cabinet makers in Gig Harbor and how they can help you unleash your imagination to create the living space you've always dreamed of.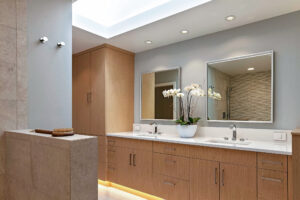 Gig Harbor: A Haven of Inspiration
Gig Harbor, with its breathtaking views of the water, lush landscapes, and charming community, has long been a source of inspiration for homeowners seeking to elevate their living spaces. With such a picturesque backdrop, it's no wonder that custom cabinet makers in Gig Harbor have honed their craft to perfection. The natural beauty and tranquility of the area have instilled in them a deep appreciation for craftsmanship and an understanding of the importance of blending design seamlessly with nature.
The Role of General Contractors in Gig Harbor
Behind every beautiful custom cabinet is often a skilled general contractor. These professionals play a pivotal role in turning your vision into reality. They are the architects of your ideas, coordinating the entire process from design to installation. When you're contemplating a home improvement project that involves custom cabinets, partnering with a reputable general contractor Gig Harbor is essential.
The Art of Custom Cabinetry
The beauty of custom cabinets lies in their ability to adapt to your unique needs and style. Whether it's a kitchen, bathroom, or any other area in your home, custom cabinetry is all about personalization. Here's how custom cabinet makers in Gig Harbor can help you unleash your imagination:
Tailored to Your Space:
Every home is unique, and so are the spaces within it. Custom cabinet makers can craft cabinets that fit your room's dimensions perfectly. No wasted space, no compromises on design.
Material and Finish Choices:
The options for materials, colors, and finishes are nearly limitless. From classic wood to sleek modern designs, custom cabinets allow you to choose what resonates with your personal style.
Kitchen Contractors in Gig Harbor: Creating Culinary Masterpieces
The heart of many homes is undoubtedly the kitchen. It's a space where culinary delights are born and cherished memories are made. Kitchen contractors in Gig Harbor specializes in enhancing this vital area of your home. From stunning cabinetry to top-of-the-line appliances, they have the expertise to create a kitchen that's not only beautiful but also highly functional.
Conclusion
In Gig Harbor, the fusion of breathtaking natural beauty, skilled artisans, and dedicated professional creates a recipe for interior design that is truly unparalleled. For those looking to embark on a journey of home transformation through custom cabinets, Harbor Cross Construction is your trusted partner. Please visit their website harborcrossconstruction.com to explore the world of custom cabinetry in Gig Harbor.